Despite the many amazing use cases for public and private blockchain networks, there's no way around the fact that the word "blockchain" has been misused, misunderstood, and hyped into a state of near-meaninglessness in the last few years.
Money-hungry ICOs have jumped on the chance to put everything from celebrities to board games  "on the blockchain," and there have been multiple cases of the stock value of different companies skyrocketing simply for putting the word blockchain in the company name.
British firm On-line Plc changed its name to On-line Blockchain Plc and saw a 364 percent increase in stock value on the same day. At least the company was tech-related — when Long Island Ice Tea changed their name to Long Blockchain stocks value jumped 200 percent, and, well it's a company that mostly just makes ice tea!
It's no wonder that well-known satirical news network The Onion has taken a crack at the hyped up state of cryptocurrency tech, and they certainly make some, well, interesting observations.
The Onion Guide to Blockchain
The guide starts off reasonably enough, pointing out that blockchain is the underlying protocol to cryptocurrencies like Bitcoin, Ethereum, and Dogecoin, before facilitating a little Q&A for the readers. So far so good, right?
Q: How does blockchain work?

A: Do you want to talk science shit or do you want to make some fucking money?
Ah.
The Onion is, of course, referencing the borderline feeding frenzy that was ICO crowdfunding, in which billions were raised for companies with no products to speak of by investors who wouldn't have understood what the products were for — had there actually been any. ICO fundraising has slowed down a lot in Q4 of 2018, but not before raising well over $13 billion in the first half of the year alone, according to some estimates.
In an unregulated market suddenly opening up investment for more people than ever before, hype tactics by ICO marketing teams made cryptocurrency sound like a magical solution to all the world's problems, and many invested with no knowledge of what blockchain really even was. Whoops.
Q: Is the system fully secure from hackers?

A: Nothing that bad has happened yet, so we're just going to say yes
While blockchain is purported to be one of the greatest leaps forward in cybersecurity history, it's fair to say that further testing is needed to determine exactly how secure it is from attacks. NASA programmer and creator of the XKCD webcomic Randall Munroe had a go at the use of this technology for secure voting software: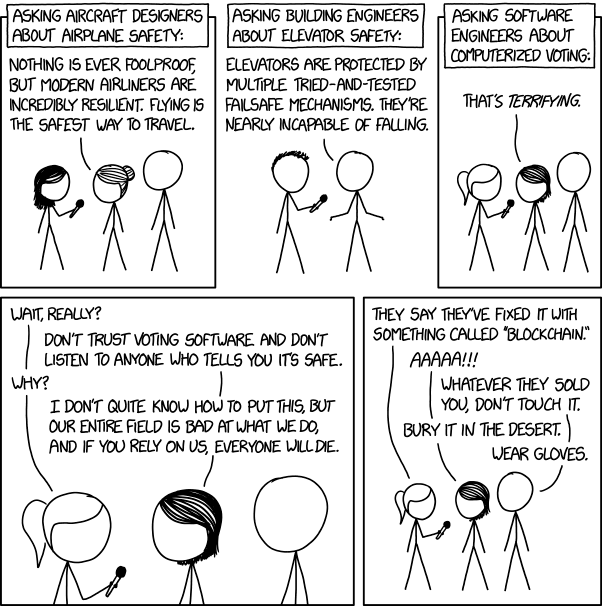 The Onion didn't leave banking applications out of their post, stating that "As long as banks still find a way to exploit the poor, they couldn't care less," before moving onto the issue of child pornography allegedly encoded onto the bitcoin blockchain.
Q: Is there really child pornography encoded into bitcoin's blockchain?

A: Only a little bit!
Ouch. The article speculates on the potential for blockchain to "further entrench us in our dependence on technology without which we would be plunged into a horrifying new dark age," and of course, took another shot at the efficiency of blockchain technology and its role in the wild west that is cryptocurrency investing.
Q: What is the benefit of using blockchain?

A: Provides a more efficient way for you to lose all your money at once.
In a turbulent and developmental industry, it can be good to poke fun once in a while. Blockchain has already been adopted by the world's leading shipping firms, banks, and governments while being praised by the likes of the World Economic Forum for its potential to raise trade revenues by trillions of dollars.
Those of us who support cryptocurrency adoption can take The Onion's guide in the tongue-in-cheek spirit in which it's intended and wait for the industry to prove itself to the world through merit.
Of course, the final point about cryptoasset investing enabling someone to lose all their money at once probably hits home for a not-insignificant amount of aspiring investors around the world — something put into words quite well by otherworldly Twitter novelty account Crypto Demon:
https://twitter.com/TheCryptoDemon/status/1042041877262950400
Featured Image from Shutterstock